Book Monster
a present for heyoka
~4" high

My Dog's Got No Eyes
2.3" long x 2.5" high
alternative views: back,
front by Haje
Big Irate Beaver
2.1" long x 2"
(5.4 x 5cm)
alternative view here
Stalking Lizard
3.5" long x 1.5" high
(8.5 x 4 cm)
alternative view here
Dancing Pig
Available.
2" high (4.5cm)
alternative view here

Blue Fish
A commission.
alternate views here and here

Kitty want food
A commission.

Green Cat
A present
He wants you to think he knows what you're thinking, I think.
alternative view here
The Monk
A present
I'm actually not at all sure what kind of a monk this is.
Food Now Please?
Sold!
Sort of a reworking of Kitty Wants Food, made on commission.
alternative view here
Kitty DESTROY CTHULHU
A commission.
(head detail view)

Kitty sleepy.
A commission
(group shot of the 3 tuxedo kitties)

Lizard Two
A commission.
alternative view here
Ganesh
A present for my mother-in-law.
Lit Critter
for the E2 Literary Criticism group

Dragon Ring
for sale at Flux for £12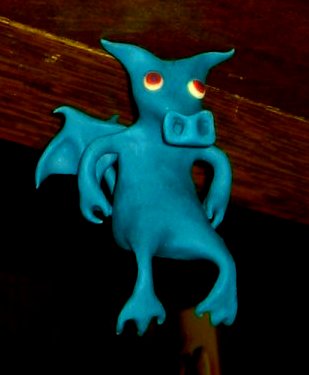 Molotov the Dragon
Not for sale
(went missing!)
several alternate views here
Corn Dragon
Not for sale
(a present)

Blue Demon
Probably not for sale

Fimo and Sculpey III are coloured modelling clays which can be baked hard in a household oven. There isn't really much to choose between them; some of these are Fimo, some are Sculpey, and I couldn't tell you which is which.

Please email me if you're interested in buying any of these. They're all one-off creations, but I don't mind making creatures on similar lines to ones which have already gone, or taking commissions for new things.

Payment by PayPal to pay@oolong.co.uk is easiest, but I'll also take cheques or postal orders. If you're in the UK, add £1 for postage and packing; for overseas orders, please email me for rates.
A Blue Cat
Not for sale.
The end result of my tutorial on how I make cats
3" high (7cm)

Storytelling Frog
For sale!
£7.50 + P+P
2.5" high
alternative view

Space Dog
2.2" long x 1.6" high
(5.5 x 4.1 cm)
Tiny Dancer
available
3" high (7cm)
Bat Magnet
available
2" high (4.5cm)
alternative view here
Knitting Demon
Not for sale - a present.

Incredulous Dog
Sold!
for £10.
2.2" long x 2.3" high (5.5cm x 5.8cm)
alternative view here
Suspicious Tapir
Sold!
3.3" long x 2" tall
(8.4 x 5.1 cm)
Space Cat
Not for sale
(a present for Ed)
alternative view here
Happy Pig
Not for sale
(got squashed!)
Big Snail,
Small Dog
Snail: Not for sale
Dog: £5.00 + P+P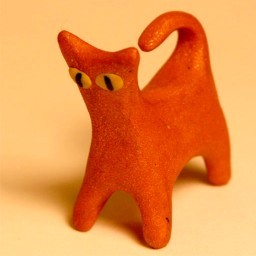 Tiny Orange Glitter-Kitten
Sold!
1.1" long x 1.3" high
(3 x 3.5cm)
Yellow Glitter-Cat Pendant
Not for sale
(present for wife)
Little Red Dog
Sold!
2" long x 1.8" high
Small Disgruntled Beaver
Not for sale
(present for Andrew Ducker)
Sleeping Dragon
Not for sale
(present for my wife)
alternative view (b&w)
Stompy Dinosaur
Not for sale
alternative view
Surly Cat
Not for sale

Green Lion
Not for sale (a commission)